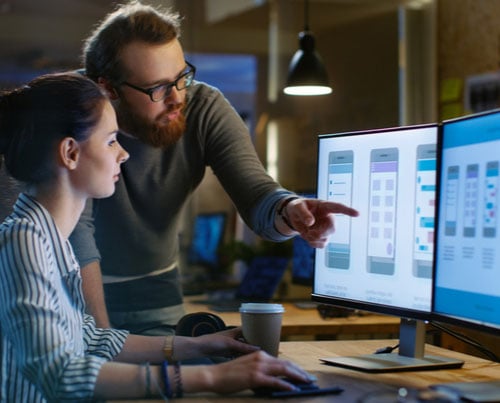 Blog Post Content
In the online world, a blog is a showplace for content. But what, exactly, is "content"?
Content can be many things: a video, maybe. Or a meme. Or a still image. Or a written passage.
But at the most basic level, content is about ideas. Whether it's expressed in words or pictures, content conveys our thoughts, opinions, insights, and questions about the issues that matter to us.
At MindEdge, our focus is on learning. What matters to us is how people learn, and what we can do to help them learn more effectively. We've got a lot of ideas on the topic, and we'd like to offer them up as food for thought — your thought — in the hope of stirring up more ideas, more innovation, and more understanding. That's the sole purpose of the MindEdge Learning Blog.
MindEdge has spent the past two decades developing content and courses that balance academic excellence with real world practice — and that appeal to adult learners in higher education, professional development, and continuing education. To ensure the effectiveness and relevance of our solutions, we've focused on monitoring learner performance and on a continuous improvement process.
We think the ideas that we advance in this blog can help us meet our vision of "improving the way the world learns."
We'll look at ways to help adult learners to improve their comprehension, to build skills and competencies more effectively, and to reach mastery of concepts, ideas, and knowledge. Some of the ongoing discussion will be about employing technology to accelerate learning, but we will put our primary focus on the process of teaching and learning — not on the tools alone.
Terms and Conditions of Use
The MindEdge Learning Blog website ("Site"), is published and owned by MindEdge, Inc.
Use of this website is offered to you on your acceptance of these Terms of Use, our Privacy Policy and other notices posted on this website. Your use of this website or of any content presented in any and all areas of the website indicates your acknowledgment and agreement to these Terms of Use, our Privacy Policy and other notices posted on this website and constitute a legal agreement ("Agreement") between you and MindEdge, Inc.
By using/visiting the Site, you agree to be bound by this Agreement. You are only authorized to access this Site or to use the materials and services contained in the Site if you agree to abide by all applicable laws and to this Agreement.
Please read this Agreement carefully and if you do not agree with it, you should leave this Site immediately. Any questions or comments regarding, or problems with, this Site should be sent to the Site Administrator at info@mindedge.com.
MindEdge reserves the right to modify or amend this Agreement without notice at any time, and such modification will be effective upon posting by MindEdge on the Site. You agree to be bound by any changes to this Agreement when you use the Site after any such modification is posted. It is therefore important that you read this page regularly to ensure you are updated as to any changes.
Copyright, Access and Use
All materials contained in this Site are protected by international copyright laws and must only be used for personal, non-commercial purposes.
The reproduction, duplication, distribution (including by way of email, facsimile or other electronic means), publication, modification, copying or transmission of material from this Site is strictly prohibited unless you have obtained the prior written consent of MindEdge. This prohibition includes, without limitation, any text, graphics, logos, photographs, audio or video material available on this Site. The use of materials from this Site on any other web site or networked computer environment is similarly prohibited. Requests for permission to reproduce or distribute materials found on this Site can be made by email at AWN@mindedge.com.
If MindEdge Learning Workshop has provided links or pointers to other web sites, no inference or assumption should be made and no representation should be implied that MindEdge is connected with, operates, or controls these web sites.
Posted Content
You agree that any messages, posts or other material whatsoever posted by you to the public areas of the Site ("Content") becomes the property of MindEdge and may be used, copied, sublicensed, adapted, transmitted, translated, distributed, publicly performed, displayed, or deleted as MindEdge sees fit. You represent and warrant that: (1) you own the Content posted by you on the Site, (2) your Content does not violate the privacy rights, publicity rights, copyright rights, intellectual property rights, or any other rights of any person, and (3) the posting of your Content on the Site does not result in a breach of any contract between you and a third party. You agree to pay for all royalties, fees and any other monies owing any person by reason of any Content you post on the site.
MindEdge does not endorse and has no control over the Content submitted by others to the Site. Content submitted to the Site is not necessarily reviewed by MindEdge prior to posting and does not necessarily reflect the opinions or policies of MindEdge. MindEdge makes no warranties, express or implied, as to such Content or its accuracy and reliability. Nonetheless, MindEdge reserves the right to prevent you from submitting Content to the Site and to edit, restrict, or remove such Content for any reason at any time.
MindEdge assumes no responsibility for actively monitoring the Site for inappropriate Content. If, at any time MindEdge chooses, in its sole discretion, to monitor the Site, MindEdge nonetheless assumes no responsibility for the Content, no obligation to modify or remove any inappropriate Content, and no responsibility for the conduct of the user submitting any Content.
You agree that MindEdge accepts no liability whatsoever if it determines to prevent your Content from being submitted or if it edits, restricts, or removes your Content. You also agree to permit any other user of this Site to access, view, store, or reproduce the material for that other user's personal use and not to restrict or inhibit the use of the Site by any other person.
You agree to release MindEdge together with its respective employees, agents, officers, directors, and shareholders, from any and all liability and obligations whatsoever in connection with or arising from your use of the Site. If at any time you are not happy with the Site or object to any material within the Site, your sole remedy is to cease using it.
Copyright Infringement
If you believe that any material contained in this Site infringes your copyright, you should notify MindEdge of your copyright infringement claim to this Site's Designated Agent who is:
Mr. Jefferson Flanders
MindEdge, Inc.
Telephone: (781) 250-1805
Fax: (781) 250-7077
Email: dmca@mindedge.com
MindEdge will review notices of alleged infringement which it receives and will take appropriate action as required by the Digital Millennium Copyright Act (DMCA) and other applicable intellectual property laws.
Disclaimer of Liability and Warranties
You agree that you use this Site and rely on material/Content contained in this Site at your own risk. The Site, and all materials/Content in this Site, are provided "as is" and, to the fullest extent permitted by law, are provided without warranties of any kind either express or implied. This means, without limitation, that MindEdge does not warrant that the Site is fit for any particular purpose; that the functions contained in the materials in the Site will be uninterrupted; that defects will be corrected; that the Site is free of viruses and other harmful components; or that the Site is accurate, error free or reliable.
You acknowledge that MindEdge and its employees, agents, directors, officers and shareholders, are not liable for any delays, inaccuracies, failures, errors, omissions, interruptions, deletions, defects, viruses, communication line failures or for the theft, destruction, damage, or unauthorized access to your computer system or network.
You acknowledge that MindEdge is not liable for any defamatory, offensive, or illegal conduct or material found in connection with this Site, including such conduct or material transmitted by any means by any other person.
You acknowledge that MindEdge is not liable for any damages, including, without limitation, direct, incidental, special, consequential, or punitive damages, in connection with or arising from your use or from your inability to use the Site.
You agree to defend, indemnify and hold harmless MindEdge and its employees, agents, directors, officers, and shareholders, from and against all the liabilities, claims, damages, and expenses (including reasonable attorney's fees and costs) arising out of your use of this Site; your failure to use the Site; your breach or alleged breach of this Agreement; or your breach or alleged breach of the copyright, proprietary, or other rights of third parties.
Termination
MindEdge reserves the right to immediately terminate your use of, or access to, this Site at any time if MindEdge decides at its sole discretion that you have breached this Agreement or any relevant law, rule, or regulation or you have engaged in conduct that MindEdge considers to be inappropriate or unacceptable.
Other
This Agreement operates to the fullest extent permissible by law. If any provision of this Agreement is unlawful, void, or unenforceable, that provision is deemed severable from this Agreement and does not affect the validity and enforceability of any remaining provisions.
This Agreement is governed by, and construed in accordance with, the laws of the Commonwealth of Massachusetts without giving effect to any principles of conflicts of law. You agree to submit to the exclusive jurisdiction of the courts of the Commonwealth of Massachusetts for resolution of any dispute, action, or proceeding arising in connection with this Agreement or your use or non-use of the Site, and you further irrevocably waive any right you may have to trial by jury in any such dispute, action, or proceeding.
All Copyrights © 2019 MindEdge, Inc.
All rights reserved.