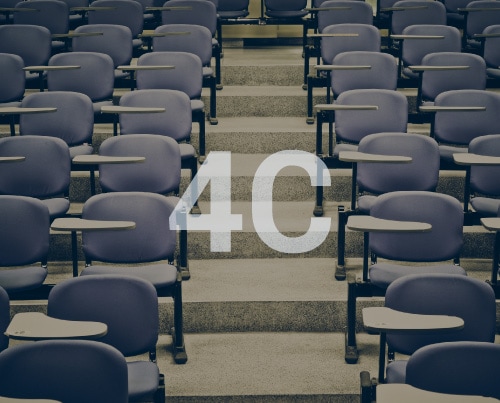 Blog Post Content
By Chris Edwards
SVP, University Partnerships, MindEdge Learning
It took just seven days.
After five months of constant chaos and prudent planning within the whole of US higher education, the best-laid hopes and dreams of many campuses held up for just seven days.
Once the University of North Carolina acknowledged its "cluster" problem—and once that cluster spread contagion to the best-laid university plans—the vaunted rhythm of campus and college life was altered, probably forever.
And that's a good thing.
Because no matter how you approach the instructional method—in-person, flipped, hybrid, online, HyFlex, or whatever new mashup we have these days—educators everywhere have to anticipate the possibility of disruption in their teaching and learning plans.
And that should lead to a better experience for all.
Pixels vs. Plexi
The "pixels vs. plexiglass" argument that raged through the spring and into the summer took on a lot of different dimensions.
From a teaching and learning perspective, those who could do the most to help make the transition from emergency remote teaching to actual online learning were pulled in different directions, toward very different ideas.
First, there was the idea of making up for lost time by engaging (sometimes, finally!) the resources from their campus teaching and learning departments on how to build a better online course. Or just simply using the basic functions of the ubiquitous LMS in support of the student experience.
Then, there was the idea of faculty innovating to support improvement of the learning experience—who else watched countless webinars this summer?—but doing so while having to forsake research and other interests, while likely not under any contract or due additional compensation.
Finally, there was the idea that all your blood, sweat, tears (and many of your favorite beverages) might lead to a big nothing, because the campus had ordered crates of facemasks and miles of plexiglass and intended to mandate a return to the easiest modality of all: just show up and lecture to a captive audience.
In the end, the idea that all the work put in over the summer could be disrupted at any point by a virus you had no control over, and subsequent circumstances could infiltrate and inflict harm on any part of your life, became real for all in the education sector.
The Adult Learner Perspective
My work in HigherEd has largely been in service to adult/non-traditional learners—those who dominate the numbers of actual students, but without the physical infrastructure, the (ever-diminishing) luxury of focusing just on studies, and the propensity to make headlines for large, ill-advised social gatherings during these times™.
And for those adult learners, the idea of unknown and immediate disruption has always been a huge risk factor in their education journey: Kids get sick. There's a big new project at work. You shoulder broader family and caretaker issues. An unfathomable switch to a new way of teaching math at your kid's school suddenly makes helping with times tables a project that requires a PhD.
Or, most commonly for adult learners: the course experience they signed up for, and the work it requires, outpaces the amount of hours available in their day—and they fall woefully behind the standard set out for them in their degree pathway or journey.
That certainly happened to me a good number of times as I pursued my MBA in an online program, one course at a time, over a four-year period while traveling 80 percent of my working hours.
When that happened, the most important thing I did each week was not to consume the lecture videos, or reply to a discussion, or take in the reading. The academic content took a temporary back seat.
Instead, every time a new module became available, my critical task was to figure out just how long the learning was going to take, and make a plan to consume it. Was the content littered with video, which might not stream well from the airport WiFi? Was there a time-sucking assignment lurking in the week's requirements? Was it time for the inevitable coordination headache—a group project across time zones, when you didn't even know which time zone you'd be in?
The possibilities for disruption to my education were everywhere. And I'd venture it was the same for every other adult learner in the space.
Now, in these times™, those deeply involved and invested in traditional, campus-based, in-person, lecture-driven teaching and learning have finally experienced the kind of disruption that many learners have dealt with for … the whole of their education journey.
And that's a good thing.
Because now that we're all collectively dealing with the challenges and realities of today's learners and learning, we can strive to invest scarce resources effectively to provide a level of reliability and resilience within the learning ecosystem.
And, maybe now, a cluster of campus of activity will ultimately turn out to be a force for good.
Chris Edwards, MindEdge's senior vice president for University Partnerships, writes an occasional column for the MindEdge Learning blog.
Copyright © 2020 MindEdge, Inc.