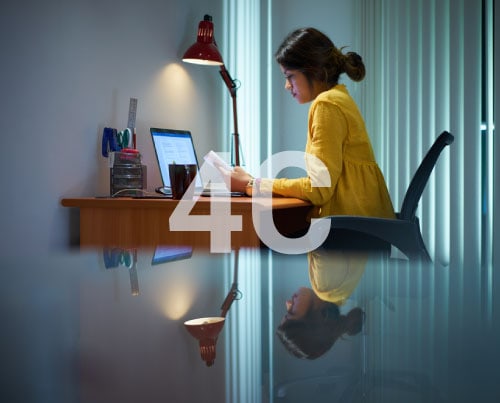 Blog Post Content
By Chris Edwards
SVP, University Partnerships, MindEdge Learning
I started to write my latest post last week; it was going to be about the madness of March on college campuses everywhere.
No, it wasn't related to the big TV show and the bouncy orange ball. It was all about the collision of two major seasons: spring conferences and Project/Budget planning.
The premise went like this: I'm always fascinated by how our broader HigherEd community makes the time and has the energy not only to span the globe working on the latest in research—but also to return to campus and plan the kinds of initiatives that truly move the organization (and learning) forward.
Still, my 20 years in and around the world of education has taught me that there's a limited window to accomplish something new. We have to deal with "innovation fatigue" and, increasingly, "attention fatigue." Given the existential threat to college enrollments everywhere, once this year's projects launch, we're on to Fall conference season—talking about what we might have proposed 12 months ago, which maybe never got past initial implementation.
Of course, I started writing all that while I was on a plane, headed to a conference, to take my place at the table for a March full of conferences that would both enlighten and frustrate. This conference season, and later the Project/Budget planning season, would focus largely on the domain of online learning, and how campuses will prepare to innovate and improve—or consciously choose to sit on the sidelines.
And then, suddenly, these two big seasons were joined by an uninvited third entrant to the party: COVID-19 season.
By the time you read this, the impacts of the virus, the panic, and preparation around preventing its spread—as well as prognostication about the broader impact on HigherEd—will still be evolving. It's a serious event, and the broader world has embraced a serious response, with a wide range of practical actions to help stem the tide.
But one thing will outlast the spread of the virus: the mass movement of HigherEd to "online" to finish this term, and the impact on future contingency planning—which means dealing with a new, distance-learning reality for many institutions.
For some campuses, online learning is already the standard operating procedure. For others, the imperative to go online right now might be a forced hand, grudgingly accepting a modality long put on the educational back burner for a wide range of reasons.
As I write, I can't imagine the number of campus training sessions and webinars being conducted by IT, to discuss the best practices for using a campus's preferred videoconferencing system—or a scramble to find any platform to allow for synchronous communication with students. How much of the U.S.'s cloud computing power is newly dedicated to Zoom and Google Meet?
Most of the teaching and learning response that's making headlines thus far has resembled the planning for excess snow days here in our home state of Massachusetts (or other environmental events that crop up on an annual basis outside of your local news cycle). This idea is to make sure there's enough to do remotely that furthers (or resembles) learning so there's not an extension of a school year that wrecks everyone's carefully made summer plans.
To be sure, the short term COVID-19 response is a little more serious and acute on many campuses. It's proper and important to follow guidelines for limiting group gatherings when advised to do so by public health officials. And moving a largely textbook-and-lecture class online will require fewer additional elements, especially because most campuses provision an LMS course shell for every class, and either Google or Microsoft is supplying cloud tools. And if you can't go to the campus, while broader mobility becomes largely restricted, there's not the regular synchronous time-constraints that push many students toward online environments in the first place.
The major change for many students? Actually checking their campus email. The biggest likely frustration? Too much competition for bandwidth among roommates and friends in the dorm.
That said, once this panic passes, the pursuit of online learning as a persistent mode of operation will become an ongoing mission for many campuses. And it's important to remember that the practice of online learning is celebrating 20+ years of best practices, standards, requirements, and regulations that were around before this crisis, and will become even more apparent as we find our way out and move forward.
The good news? Plenty of resources exist to help campuses operate online in a sustainable and appropriate way. Communities of practice like UPCEA, Quality Matters, OLC, and WCET are vital voices within this community. There's more information out there about online pedagogy than ever before. And providers like MindEdge have been serving this community for as long as we've been around (20+ years), with resources designed to meet these learning needs.
Eventually, the COVID-19 panic will yield to a broader understanding of where it is, how we can stop it, and the best way to deal with it moving forward. But the populace is still going to need to remember the age-old public health guidance to wash our hands.
The same will be said for the "shift" to online learning: once we've made it through the Spring 2020 semester with a makeshift online learning response, there will be much to consider in order to make this conversation a sustainable one.
Chris Edwards, MindEdge's senior vice president for University Partnerships, writes an occasional column for the MindEdge Learning blog.
Copyright © 2020 MindEdge, Inc.