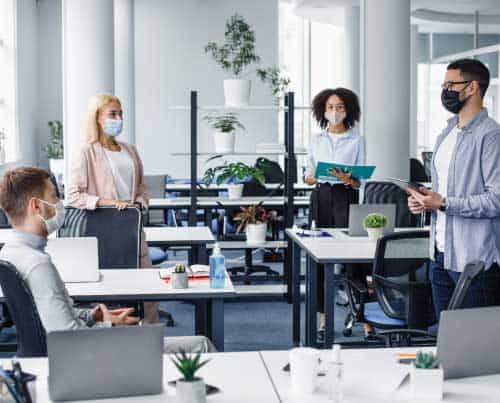 Blog Post Content
By Frank Connolly
Director of Communications and Research, MindEdge Learning
The past year witnessed profound changes in the American workplace, as the COVID-19 pandemic ushered in a new—and perhaps permanent—era of remote work. To gain a clearer understanding of where these changes might lead, MindEdge Learning conducted three major surveys on workplace and employee trends in 2021.
In February, we released our fourth annual Future of Work report: The New Frontier of the American Workplace, which surveyed 830 U.S. managers about their experiences with automation at work, and the impact the pandemic was having on their workplaces.
In June, we released our second annual State of Remote Work report: The Age of the Hybrid Workforce, which surveyed 848 adults who worked remotely during the pandemic, to discover how hybrid work has affected workplace experiences and protocols.
And in October, we released our second annual HR in the Age of Workplace Uncertainty study. Conducted jointly with the HR Certification Institute, the survey questioned 1,012 Human Resources professionals about the challenges of "doing HR remotely."
So, what did we learn?
For good or for ill, automation is on the rise.
Our Future of Work survey asked managers a series of questions about automation in their workplaces. More than half (52%) of managers reported that their companies increased the use of robotics and other forms of advanced automation in direct response to the COVID-19 crisis. While some automation was implemented to protect workers (39%), about an equal amount was designed to cut costs (33%). The motivation varied by industry, with Retail and Healthcare more focused on protecting employees, and the Technology and Manufacturing sectors more focused on cutting costs.
It's a common fear that an increase in automation puts jobs at risk, but was this reflected in our spring data? Our results were emphatically mixed: 40% of managers reported that yes, recent automation led to job losses, but almost as many (39%) said that it did not. Another 10% told us that automation led to a net increase in jobs at their companies.
Remote and hybrid work models are the new norm.
For many companies, the pandemic drove managers and HR leaders to reevaluate the traditional, five-day-a-week office schedule.
In our Future of Work survey, more than one-third of surveyed managers were already predicting that remote and hybrid work models would continue over the long term.
In our State of Remote Work survey, 49% of respondents' companies planned to allow employees to divide work-time between home and the office; only 21% said that employees would need to work in-person on a full-time basis.
Fast forward to our HR in the Age of Workplace Uncertainty survey, which found that 90% of respondents' companies had implemented a remote work program either before or during the pandemic. Seventy-eight percent of respondents said their companies have instituted a hybrid work schedule going forward, for at least some employees.
Our surveys also managed to quantify the hybrid-work "sweet spot": the typical hybrid worker wants to come into the office only about two to three days per week.
Hybrid work can take a toll on mental and emotional health.
After more than a year of remote work, how do employees feel about these changes in their daily routine?
Although 37% of our State of Remote Work survey respondents expressed no concerns about hybrid work arrangements, others were worried about:
missing out on office camaraderie (20%)
being less productive (17%)
feeling disconnected (15%), and
having less face-time with the boss (10%).
Respondents did not provide a clear answer to the question of whether working remotely would hurt their career prospects. One-of-three (33%) said that people who choose not to work remotely will do better, in terms of raises and promotions, than those who do work remotely—but almost as many (26%) said the opposite. A plurality (42%) said that remote work would have little or no influence on raises and promotions. (Perhaps significantly, 39% of managers said they expect remote workers to lose out, career-wise.)
While remote work has its perks, 37% of respondents in our State of Remote Work survey noted a decline in their mental or emotional health as a result of working remotely. Only 24% felt that working remotely has had a positive effect on their mental health
HR processes have lost the 'in-person touch.'
The pandemic has created an array of new challenges for HR professionals, who are now doing most of their own work remotely. Our HR in the Age of Workplace Uncertainty survey found that 89% of respondents are conducting HR functions remotely at least some of the time—even as hiring is ramping up and HR is under increased pressure to attract and retain top talent.
At the time of the survey, 52% of respondents' companies were hiring at a faster rate than before the pandemic. And while some HR functions, such as interviewing, have proven amenable to a remote approach, others have not. Respondents told us that recruiting and onboarding, both of which rely heavily on an "in-person touch," are significantly more challenging in a remote environment.
Future-proofing requires skills training.
At MindEdge, we strongly believe that reskilling and upskilling are the keys to employee success in the new, heavily automated workplace. In particular, soft skills such as creative thinking, communication, and complex problem-solving can help workers future-proof their careers by differentiating themselves from robots and other forms of advanced automation.
And we're not alone: 87% of our Future of Work survey respondents agreed that continuous learning is valuable to a workers' career. At the same time, fully 80% of managers whose companies were hiring during our State of Remote Work survey said that certifications add value to a job candidate's résumé— And yet, our surveys this year showed that training workers in remote work and skills enhancement has not yet become a widely shared corporate priority.
There's a notable lack of employee well-being.
The top findings from our HR in the Age of Workplace Uncertainty survey showed that there has been a significant increase in employee burnout, as well as higher rates of turnover in organizations. Eighty percent of respondents reported an increase in employee burnout in the past year, and 54% noted an increase in turnover. To combat this, 62% of respondents' companies have introduced workplace benefits to reduce stress, or plan to do so. Still, more than a third (38%) said their companies have not taken any steps to address the burnout issue.
Our annual surveys give us valuable insights into the biggest challenges and opportunities facing employees, managers and HR professionals. As the COVID-19 pandemic grinds on, our tri-annual surveys will continue to help us identify what workplace processes have changed, what has stayed the same, and what the future of work will look like.