Content Area
MindEdge Offers Badges from Badgr
Badges are a micro-credential that allow learners to digitally advertise the training they've completed and the skills they've mastered outside of their formal degree-credentialing institution.
And, for existing students, displaying badges from stackable credentials or other extra-curricular academic pursuits really reinforces the skills and knowledge acquired in a specific area.
The importance and embrace of lifelong learning is a major element in workplace growth in the modern economy — and sharing your successes in getting that "extra edge" is an important part of that journey to what's new and next for your career.
So, MindEdge partners with the digital badge toolkit, Badgr, to award badges for many of MindEdge's professional development and continuing education courses and certificates.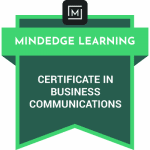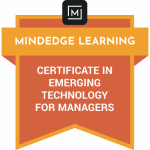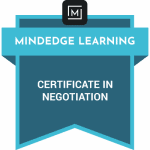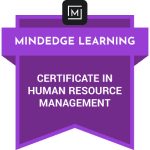 Setting up your Badgr account and gathering these micro-credentials is easy! Just follow these steps.
1- Take a MindEdge course or certificate.
2- Complete the badging criteria, which usually means passing the weight-bearing assessments and completing the course or certificate to 100%.
3- Click on the Tools menu and click the digital badge image.
4- Enter your personal email address (not your college or university email) to claim your badge, which will come to your email from the Badgr system.
5- Once you have the Badgr email, you'll have everything you need to post this MindEdge badge to your LinkedIn profile or other network and social sites.
Badge Implementations in For Credit Institutions
MindEdge badges can be embedded as stackable credentials or elements inside the academic curriculum on campus. When students complete these elements of a course (or extend their learning to new topics outside the traditional curriculum), it's a positive signal to hiring managers and future employers that you've got a little extra energy and desire to continue on a skills improvement journey. For students in certain courses, instructors have built in the elements of a MindEdge certificate into the core digital texts. Ask your professor if there's a MindEdge badge you can claim after you successfully complete your course in a given term.
If your curriculum doesn't include elements of digital badging, consider how you might add additional skills in your areas of interest by exploring a MindEdge course.