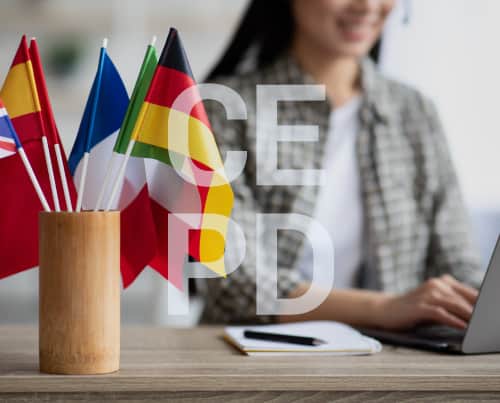 Blog Post Content
By Andrea Giugni
Editor, MindEdge Learning
Consider the experience of going to a McDonalds in New York compared to a McDonalds in Paris, Mumbai, or Sydney.
While your go-to order in New York might be a Big Mac, maybe it's a McBaguette in Paris, a Maharaja Mac in Mumbai, or a Big Brekkie in Sydney. Because McDonalds is aware of cultural differences, specifically those related to food, the company has opted to modify some of its menu items while still keeping in line with its branding and overall mission.
Tailoring a menu to reflect the needs and preferences of a target market not only ensures that customers around the world will have comparable experiences, but it can also attract a wider and more loyal customer base. This is the role of localization—taking into account the various cultural norms, language differences, numerical representations, and legal requirements of a new target market. By adapting a product or service to each audience, organizations can work toward a consistent and quality experience for every user, regardless of location.
Especially during the past three years, increased globalization and remote opportunities have continued to bridge communities internationally. Organizations might have multiple offices across time zones and remote workers might work far away from their organization's headquarters. Students are likely more familiar with remote classes, having spent many hours on Zoom. Within the online learning space, educators and subject matter experts are thinking carefully about how to create the best possible learning experiences for a growing number of students across the globe.
Virtual learning offers an opportunity to improve access to educational resources and discover and develop talent, without being bound by the limitations of physical space. This, in turn, allows learning to become more global: Students encounter new perspectives and approaches that connect them internationally and shape the way they solve problems and communicate. Just as localization has had a major impact on the restaurant industry, it has the potential to affect online learning dramatically.
This year, MindEdge has taken on the major new challenge of adapting its Frontline Manager™ suite of courses for a new, Spanish-speaking audience. This suite of 10 courses is built for aspiring or newly appointed frontline managers across a range of industries, and covers subjects such as work-life balance, supervision, time management, coaching, and other essential managerial skills. The goal of this project is to bring relevant and clear educational content about management styles, techniques, and examples to a potentially huge new audience.
As MindEdge's in-house translator, I got to work thinking not only of the task of translation, but also of localization. I considered aspects of the suite that referenced measurements in the American system as opposed to the metric system, making sure that all times, dates, and monetary values matched those of a global, Spanish-speaking audience. For example, while in the US, we write the month, date, and year (i.e., 11/30/2022), Spanish-speaking countries write the date, month, and year (i.e., 30/11/2022). We also had to modify culturally specific expressions and idioms (e.g., "walking on thin ice") to reflect either a non-idiomatic expression or a comparable expression in Spanish. I ensured that any laws or legal considerations mentioned in the courses were specific and relevant for global learners in the industry, and I made sure to use the right subject and corresponding conjugations in order to convey a level of respect and formality to our learners.
Another crucial aspect of localization is user interface and navigation. Our team worked to ensure that all navigational elements of the suite were clearly defined, and we used icons that would be internationally recognizable. All images and videos were translated clearly, with the necessary alternative text, image descriptions, transcripts, captions, and other accessibility features. We chose a compatible platform and built a suite that would work effectively with any necessary assistive technology, as we do for all MindEdge's courses. Our editorial team built a style guide that was specific to the localization strategies we identified for this translated suite of courses, to help keep the content consistent throughout.
At the end of the day, MindEdge has built a suite of courses tailored to emerging professionals across a wide variety of industries, known as the Frontline Manager™: Spanish courses. These courses are now available for Spanish-speaking learners looking for comprehensive courses to help them and their team build healthy habits and reach organizational milestones. And, just as a Big Mac might differ from a McBaguette, our courses in Spanish might have some additional cultural touchstones—which will enable learners to have comparable experiences across the globe, thanks to the power of localization.
Frontline Manager™: Spanish is not yet available online. But to check out the English-language Frontline Manager™ courses, click here.
Copyright © 2023 MindEdge, Inc.